One Duck Lake Map information
Statistics
| | |
| --- | --- |
| Scale | 1:10,000 |
| Map standard | ISOM2000 |
| Events on map | 0 |
---
Notes
Notes by Adrian Zissos (Jan 2014)
There is no good parking area for this map. Competitors must be bussed.
Obtaining permissions for Orienteering on maps in the Whistler Region
---
One Duck
The One Duck map is located in crown land within the boundary of the Resort Municipality of Whistler. Therefore there are a number of landowners to be considered:
Provincial Ministry of Forests, Lands and Natural Resource Operations
Land Tenure Branch – Crown Land Program Areas
www.for.gov.bc.ca/Land_Tenures/tenure_programs/programs/adventure_tourism
This department administers all Crown Land and orienteering is considered to be a "Special Event" under the "Adventure Tourism" umbrella. Section 6.2 in the Adventure Tourism Policy:
"Applications for non-commercial recreation events on Crown land are voluntarily (i.e. public recreation events such as organized mountain bike races). Also refer to section 8.7.8 for events that may overlap established Recreation Sites or Trails.

The primary purpose and benefit of obtaining a Temporary Permit for Special Events is to address safety, ensure the Crown land access route and location is available on the day/s of the event, minimize impacts on Tenure holders, avoid substantive conflict with public recreationists or the general public, and minimize impacts on the environment or disturbance to wildlife. "
Making a permit application is voluntary as OABC is a not-for-profit Society in BC and it's number is: S-11676. It may be worthwhile to make a permit application in order to secure the land for the dates of the event (second paragraph above).
Provincial Ministry of Forests, Lands and Natural Resource Operations
Department of Forestry, Squamish Forest Division (Sea To Sky)
I'm not sure if we need to contact this department, since there are no forestry roads on the One Duck Map.
Recreational Sites and Trails BC
http://www.sitesandtrailsbc.ca/
If we use an area with a major trail, then we should contact this department. There is no such trail on the One Duck map.
Resort Municipality of Whistler
Need to obtain permission to use the access road to the water tower. Also need to consult about logistics - transporting people to the area.
---
Map image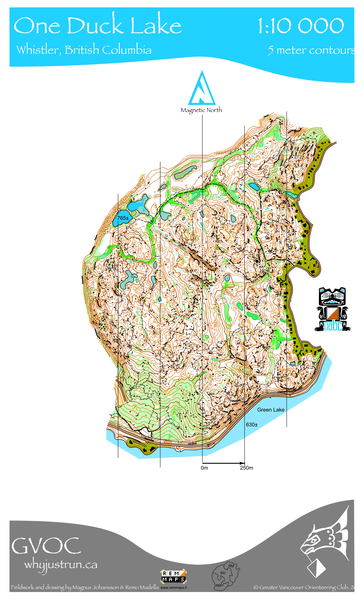 ---
Location